Math typesetting information¶
In summer of 2007 (as I write) MicroSoft is proposing an extension to OpenType which will allow fonts to contain information useful for mathematical typesetting. The information all lives in a new 'MATH' table. FontForge now allows you to perform basic editing on this table.
Constants¶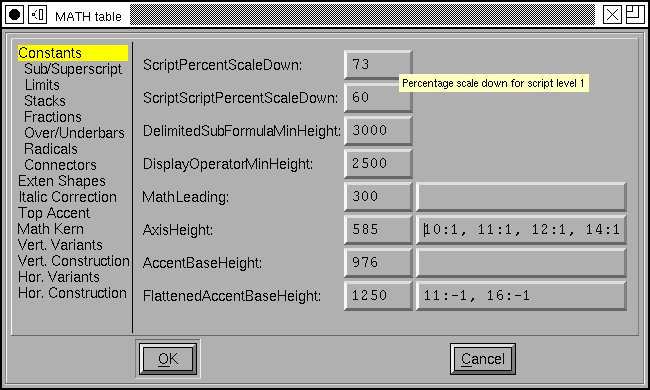 The table is divided into several parts. One part provides information on font-wide constants (And I do not mean "pi" or 2.71828… when I say constant here). These have to do with the size of various elements of mathematical formulae with respect to one another, and the spacing between them. So FractionNumeratorGapMin specifies the minimum gap (white space) between the bottom of the numerator of a fraction and the fraction bar (the rule between the numerator and denominator.
I will not describe all of these constants here, there are about 60 of them (and they take up 8 panes in the dialog). Most are fairly self-explanatory, but some I do not understand myself. FontForge has little popup messages plagerized from the specification which try to go into more detail.
Some of these constants are stored as percentages of some other size (ScriptPercentScaleDown is and means that sub-elements should be drawn at a pointsize 73% of the current one – I think). But most constants are represented in em-units, and most of these may also have device table adjustments specified. (At small pixel sizes (such as those used for screen fonts) the rounding error introduced by converting from em-units to pixels may be as large as the movement itself. A device table allows you to specify that (in the case of AxisHeight above) when the font is rasterized to be 10 pixels high the Axis should be moved up by one pixel).
FontForge is not always configured to support device tables, so if these columns are missing you just need to reconfigure and rebuild it.
Glyph specific information¶
In addition to the constants there are various bits of data that potentially pertain to each glyph.