Bitmap Glyph View¶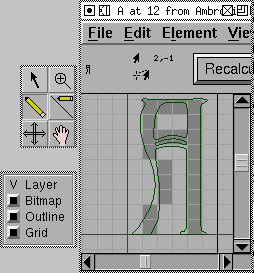 The bitmap view is vaguely similar to the outline view. It is also designed for editing glyph shapes, but here bitmap glyph shapes.
At the top of the view is a small region showing an unmagnified view of the glyph, to the right of that are two information displays, the first shows the current location of the mouse pointer, and the second shows (if the mouse button has been depressed and not released yet) the offset from the place where the mouse was pressed to the current pointer location. The coordinate system here is in pixels with the origin at the glyph's origin. Next to this is a button (here truncated) that allows you to recalculate the bitmap (rasterize the outline and place the result in the window for editing).
Underneath is the main display, showing the bits in the image, the outline of the glyph and a grid.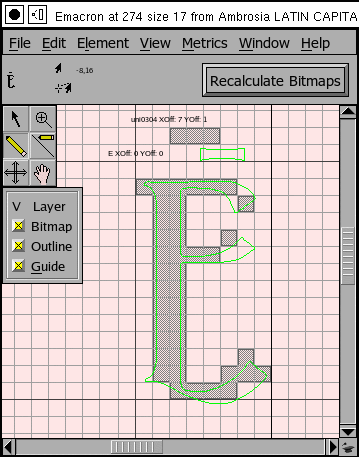 As in the outline view you may choose to make the palettes free floating windows by unchecking View ‣ Palettes ‣ Dock Palettes.