Expand Stroke Facility¶
The Expand Stroke facility traces a closed, convex contour (referred to as the "nib") along a "source" contour, producing a new contour or contours that enclose the area the nib "passed over". When the source contour is open the result is usually a single closed contour, and when the source contour is closed the result is usually two closed contours:
There are exceptions when the geometry of the nib and the source contour interact:
The "Expand Stroke…" dialog in the "Element" menu of a font view or outline view window is the primary interactive interface for the facility. In the font view it traces all foreground contours in all selected glyphs. In the outline view it traces all contours with at least one point selected, or every contour if no points are selected on any contour. The dialog looks like this: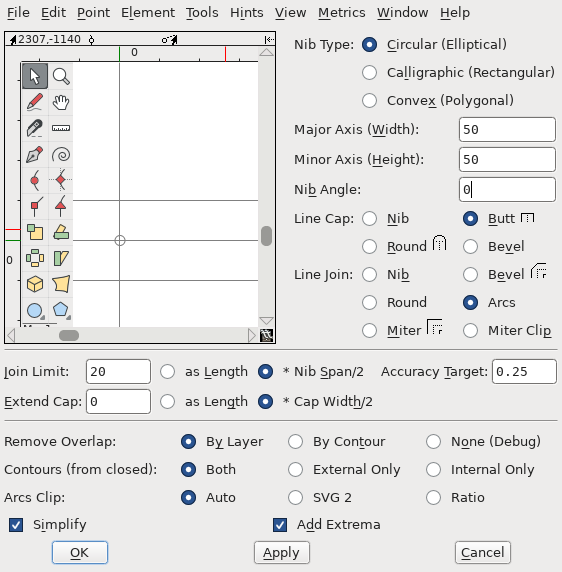 The Freehand Tool also uses the facility and has a similar dialog, and there are interfaces for both Python and FontForge's native scripting language.
This guide is arranged into four sections. The first discusses the common case of tracing a circular nib, which is also called "offsetting". It includes a description of the "cap" and "join" options for offset curves.
The second section introduces the other nibs types: the rectangular "calligraphic" nibs associated with some types of calligraphy, elliptical nibs, and general convex nibs designed by the user. All nibs support the same cap and join options listed in the first section, but some have slightly different behaviors and effects.
The third section discusses additional parameters that address special cases, influence the geometric accuracy of the generated contours, or that can aid in debugging potential problems.
The last section is an overview of problems a user may encounter using the system and some potential work-arounds. Please read this section prior to filing a GitHub issue.