Finding common font problems automagically¶
Nobody is perfect.
Well, I'm not.
When you draw your glyphs you are likely to make some minor errors, like having stems with slightly different widths in different glyphs, or having lines which aren't quite vertical or…
FontForge's Find Problems command can help track down some common errors. In some cases it will be able to fix things for you, but it won't do so without your permission (who knows, some of the so-called "problems" might actually be what you wanted), but it will point things out to you that you should look at.
This command works either in the font view, the outline view or the metrics view. In the font view it will examine all selected glyphs for errors, and if it finds anything open a window looking at the glyph and post a (non-modal) dialog saying what the error is. You may then correct the problem and press the [Next] button in the dialog when you are done, or you may stop the command with the [Stop] button. Some errors FontForge will be able to fix automagically, and if so there will be a [Fix] button in this dlg.
Note
You should not assume that all problems are in fact errors. Some "problems" may be intended peculiarities of the font design. Don't just blindly press the [Fix] button
Behavior in the outline and metrics views is similar, except that only one glyph is searched for problems.
FontForge will be able to check for more problems if you:
AutoHint the font first

Bring up the Element->Font Info->Private sub-dialog, add entries for BlueValues, StdHW and StdVW and press the [Guess] button for each of them
Note: Some of these problems are geared specifically to the problems of Latin/Greek/Cyrillic fonts. I would be happy to hear of ways to extend these to other script systems, or of problems that are specific to other script systems (fontforge-users@lists.sourceforge.net this is a public mailing list).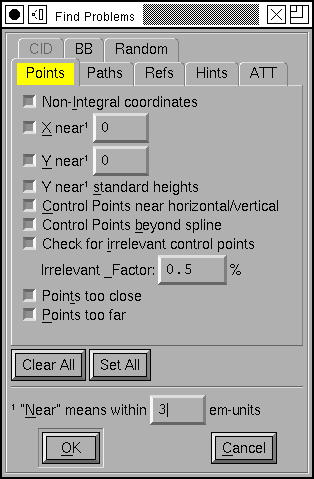 FontForge can detect the following potential problems: